Private Tour: Macau Day Trip from Hong Kong
Asia » Hong Kong » Hong Kong » Hong Kong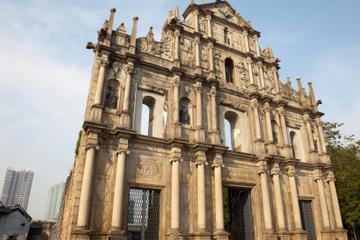 (5.0)
Duration: 10 hours
Departs: Hong Kong, Hong Kong
Price from USD 279.00
Book Now
Discover Portuguese influences in Macau on visits to various historical and cultural sites with your private guide on this private tour from Hong Kong. Explore the UNESCO World Heritage-listed Ruins of St Paul's and see the 17th-century Cathedral of St Paul. Visit two museums that demonstrate various themes running through Macau's history – the Macau Museum and the Maritime Museum. End your tour with lunch at the stop of the Macau Tower and admire gorgeous bird's-eye views of Macau, the Pearl River and beyond.
After pickup from your Hong Kong hotel, you'll be dropped off at the Hong Kong-Macau Ferry Terminal for your scenic 1-hour (approx.) ferry ride from Hong Kong Island to Macau. Upon disembarking, board your private vehicle with your guide and make your way to the Ruins of St Paul's, the ruins of a 16th-century complex originally including St Paul's College and the Cathedral of St Paul. Today, the only remaining remembrance of this complex is the notable facade of the old cathedral. Follow your guide on a walk up the 66 steps to the top to fully appreciate the grandeur of the remaining stone facade, featuring intricate 16-century stone carvings and sculptures.
Then, walk to the nearby Macau Museum, where you can view exhibitions representing the history of this former Portuguese territory. See the vast number of historical and cultural objects that demonstrate the ways of life of the various communities that have inhabited the city.
After, hop into your private vehicle for a 30-minute drive (approx.) to the Maritime Museum. Inside, see several exhibitions that showcase the history of the maritime industry in Macau, China and Portugal. Learn about various major maritime themes in Macau like Portuguese explorations and discoveries, developments in naval technology and transport, nautical costumes, fishing techniques and more.
For lunch, delight in a unique fusion of Portuguese and Indian cuisines atop the Macau Tower at the 360° Café, Macau's highest revolving restaurant! Afterward, tour the Macau Tower with your guide. Enjoy stunning views of the Pearl River Delta from its main observation lounge at 731 feet (223 meters) from the ground!
At the end of your tour, you'll be transferred back to the ferry terminal for a return ferry back to Hong Kong. A private vehicle will then take you to your Hong Kong hotel.
« All Activities