Snorkeling and Kayaking at Hoi Ha Marine Park
Asia » Hong Kong » Hong Kong » Hong Kong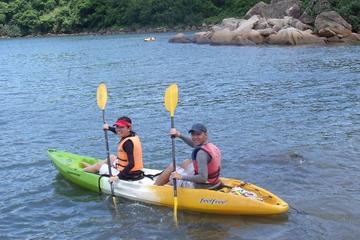 (5.0)
Duration: 4 hours
Departs: Hong Kong, Hong Kong
Price from USD 51.57
Book Now
Hoi Ha Wan marine park is well known for it's crystal clear and calm waters, and has some of Hong Kong's largest coral colonies. It is a great place for kayaking and snorkeling. Join this tour to see the colorful underwater world of corals and fish, crabs, sea stars, and much more. All set against a beautiful backdrop of the forested shorelines of Hoi Ha Wan.
After meeting up at Wu Kai Sha MTR station we catch a taxi to the tiny village of Hoi Ha, a scenic 30-40-minute ride.

At the beach we collect the kayaks (included) and get changed into swim suit and put on snorkeling gear (provided: mask, snorkel and flippers). The main coral colonies are some 20 minutes kayaking out. Here we can tie the kayaks to one of the mooring buoys, and enter the waters to enjoy the wonderful underwater world.
« All Activities