Private Chinese Tea Tasting with Tea Master
Asia » Hong Kong » Hong Kong » Hong Kong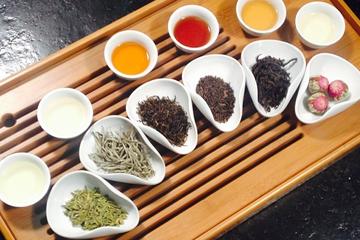 (5.0)
Duration: 90 minutes
Departs: Hong Kong, Hong Kong
Price from USD 44.96
Book Now
Taste a diverse array of fine Chinese tea in a private 1.5-hour session with a tea master! Sample five exquisite teas as you learn about the traditional rituals of tea making, and sipping, from a Hong Kong expert. You'll pair various brews with two delicious Chinese specialties – rose honey toast and osmanthus flower tea jelly – and leave with a deeper understanding and appreciation for Chinese tea.
Meet your private guide, a professional tea master, at a central location in Taikoo Shing at 11am or 3pm, depending on which option you select. During your private 1.5-hour tea-tasting session in Hong Kong, you'll sample five excellent Chinese teas, including green, white, red or black, and two Oolong teas.
After your tea master demonstrates the intricate rituals of preparing Chinese tea with traditional utensils, you'll learn how to assess the appearance, aroma and after-taste of the beverage. Smell the dry tea leaves as you sample each cup, then take a sip and swirl the brew on your tongue, opening your palate to the distinct qualities and subtle flavors of Chinese tea.
You'll have the opportunity to pair various teas with two Chinese delicacies, including rose honey toast and osmanthus jelly. After your tea master explains the process behind tea production, the health benefits of tea and how to choose the right type, you'll almost be an expert yourself.
Take an informative booklet about tea tasting home with you to keep as a souvenir!
« All Activities