Hong Kong 101 Walking Tour
Asia » Hong Kong » Hong Kong » Hong Kong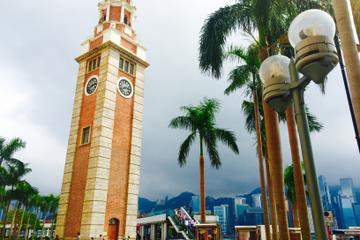 (5.0)
Duration: 3 hours
Departs: Hong Kong, Hong Kong
Price from USD 26.45
Book Now
This 3-hour introductory tour of Hong Kong provides visitors with a comprehensive overview in the afternoon. Start with a ferry ride from Tsim Sha Tsui, followed by a walk through the Central district before proceeding to Sheung Wan. Enjoy skyscraper views from Victoria Harbour, stand on the 55th floor of Two IFC, and visit a temple. This small-group tour limited to 12 people is mostly done on foot, but you'll also ride the Central–Mid-Levels escalator and a double-decker tram.
Meet your guide by the Clock Tower in Tsim Sha Tsui, situated on the Victoria Harbour waterfront, and hop on a Star Ferry to start your Hong Kong sightseeing tour with an 8-minute ride on the water.
Disembark on the island's north shore and follow your guide on foot through Central — the central business district of Hong Kong and the political and religious heart of Victoria City. From the 55th-floor observation deck of Two IFC, Hong Kong's second tallest building, you'll enjoy bird's-eye views of the city skyline. See skyscrapers like the International Commerce Centre, and visit the Hong Kong Monetary Authority Information Centre, a museum-like space in Two IFC that showcases the development of the Monetary Authority and examples of coins and notes used over the years.

Then head back down to street level to Statue Square, where you can admire more of Hong Kong's finest skyscrapers, including the Mandarin Oriental and the HSBC building. After dropping by St John's Cathedral, hop on a Hong Kong Tramways double-decker tramcar to Gilman Street, and then take the Central–Mid-Levels escalator, the world's longest outdoor covered escalator for around 10 minutes.

Next, head down to Hollywood Road and visit the
revitalized
area of PMQ and Queen's College. Step inside the tranquil Man Mo Temple, and stroll down Upper Lascar Row, known as Cat Street, which sells everything from Chinese antiques to jade and silk products.
Finally, make your way to Sheung Wan, filled with handicraft shops, dried seafood stalls and Chinese medicines. If you wish, you could spend more time in the neighborhood before concluding your tour in Sheun Wan MTR station.

« All Activities